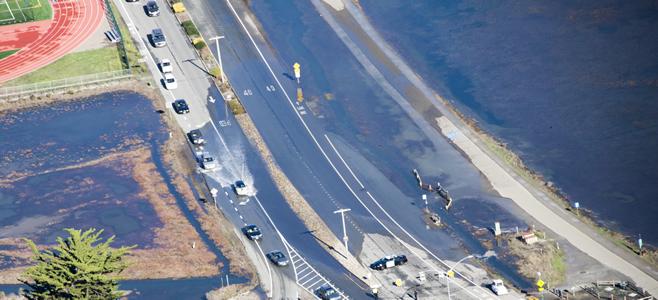 A king tide floods roads in California, previewing how sea level rise will impact coastal communities in the near future. Robert Most.

Thursday, July 18
1pm-1:30pm MST
Join LightHawk and Surfrider Foundation to hear how we plan to raise awareness about sea level rise during King Tide events, and how your group can participate. King Tides provide a sneak peek into what normal high-tides will look like due to sea level rise in the near future. These flights draw attention to coastal areas of concern through media coverage, powerful aerial imagery, citizen science photography efforts, and provide a platform to engage key decision-makers. King Tides are predicted in late July/early August on the East coast and in January on the West coast.
We'll hear from Stefanie Sekich-Quinn with Surfrider and Jonathan Milne, Esther Duke, and Audrey Ek-Psomas from LightHawk for details on the issue, and how to request a flight from LightHawk.
Not able to join? The webinar will be recorded and shared afterwards.