It's been a productive start to Autumn at LightHawk and we're so excited to celebrate all we've done in 40 years at the upcoming Annual Meeting and Fly-In. Be sure to read all the way to the bottom of this month's FLYer- there's some press stories we're pretty proud of!
LightHawk Hats, Jackets and Shirts! NEW- We now have a store where you can show your LightHawk pride! Please make orders by September 22 if you'd like to pick them up at the Annual Meeting in Santa Fe.
Paper Airplane Contest: Did you hear? Submit your paper airplane design and it could be featured in our holiday letter! Learn more HERE.
Flying over the Cienega de Santa Clara in the Colorado River Delta in Mexico.
LightHawk flew photographer Jack Dykinga to capture images of the globally important Delta, which will help build support for its restoration.
Photo Credit: Greg Bedinger
Issue: The Colorado River Delta and estuary has been decimated, as the mighty river no longer reaches the sea due to over-use of the arid region's river.

Why It Matters: The Delta is globally important to birds and marine life in the Gulf of California, and for the people whose way of life is inextricably linked to the river.
LightHawk Conservation Initiative: Safeguarding Freshwater Systems
What LightHawk Is Doing: LightHawk is working with organizations across the entire Colorado River watershed to restore the Delta. This month, we helped acquire world-class images of the estuary and wetland restoration progress.
Outcome: LightHawk's perspective will shed light on the issue to raise awareness and funding to complete the restoration of the Colorado River Delta and support international water sharing.
Meet the LightHawk Staff

Jonathan Milne
Eastern Program Director
Jonathan, our easternmost staff member, directs LightHawk's efforts in the eastern half of the US.
He develops partnerships with conservation organizations from Maine to Florida and west to the Dakotas.
He helps guide LightHawk's conservation strategies for eastern-specific issues including large landscape, watershed, and near-shore habitat preservation/restoration/monitoring.
Jonathan has been surrounded by pilots his entire life. His father flew the PBY Catalina and Martin PBM Mariner and his younger brother flew for the USMC for 20+ years as an AH-1 Super Cobra helicopter pilot. Jonathan brings a diverse conservation background to LightHawk: he was a park ranger in Oregon for the BLM and in Maine for almost ten years at Baxter State Park. He has worked on a variety of conservation projects including ecological assessments for superfund sites, baseline ecological surveys for conservation easements, forestry management surveys, vernal pool surveys and wetland analysis for many clients throughout New England. Jonathan has a B.S. in Recreation and Park Management from the University of Maine and a M.S.c. in Environmental Science/Conservation Biology from Green Mountain College in Vermont.
LightHawk in the News
Denver Post: Critics of federal oil, gas leasing in CO focus on fate of fancy-dancing bird and public lands

"Barbara Vasquez was one of a small group of people who recently took a flight with LightHawk, a conservation organization, to get a big-picture view of public lands up for oil and gas leasing and some of the spots where the greater sage grouse live… "

National Geographic: Planned roads could imperil Florida's panthers – and last remaining wilderness

A story featuring photos from LightHawk and how development threatens the endangered FL panther.

CBS This Morning: How to protect trees of the Pacific Northwest?

A story featuring LightHawk footage of logging activities.
LightHawk Photo of the Month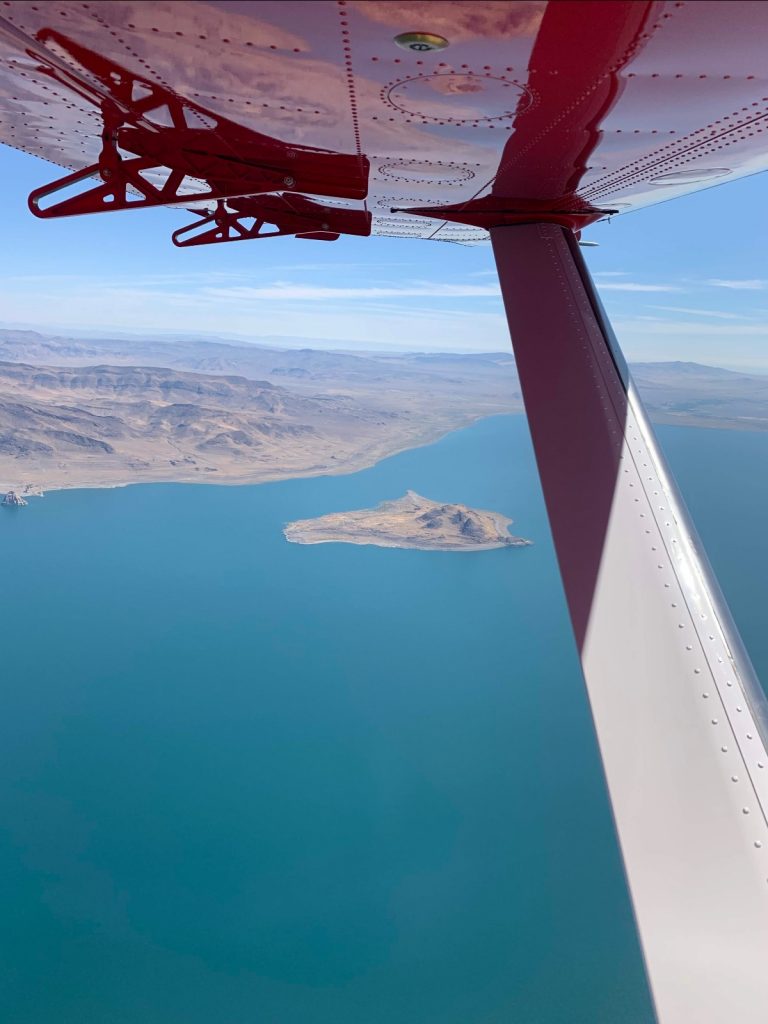 Pyramid Lake in Nevada. This flight highlighted National Conservation Lands in northwest Nevada for Conservation Lands Foundation supporters, allowing our partners to share key aspects of their work to protect premiere lands, rivers and trails managed by the BLM. Conservation Lands Foundation/LightHawk
Thank you for reading! And for those of you who are on social media, follow us on Twitter, Facebook and Instagram to see updates more often.