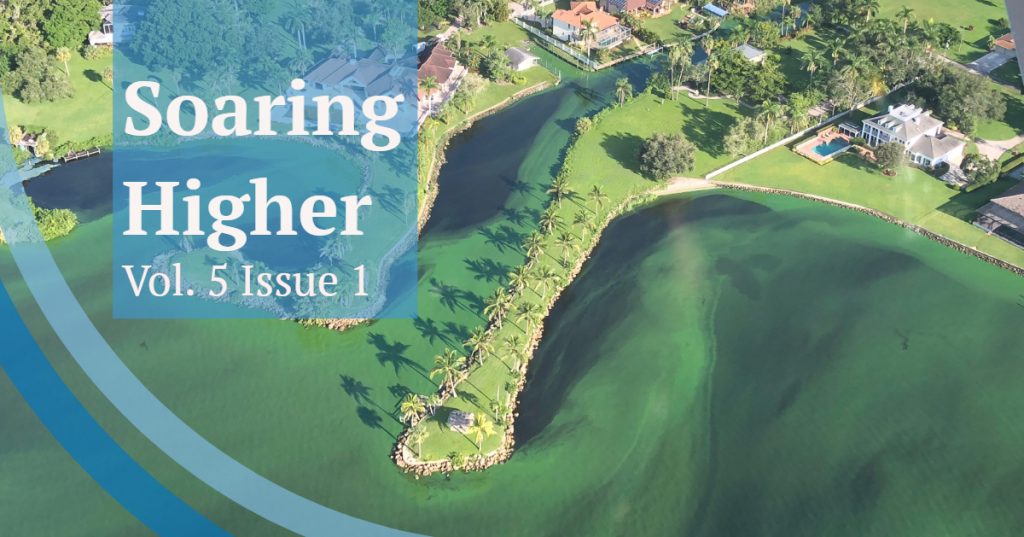 How LightHawk's Supporters are Saving the Earth
From Slime to Saved
When LightHawk flights lead to presidential actions

When you think of Florida's beaches, you probably don't
imagine them abandoned, full of dead fish, and giving off toxic gas. That's exactly what happened in 2018 as Florida experienced the worst red tide algae bloom since 2006. Not only was the sea suffering from the poisonous microscopic creatures, but lakes and rivers too. Bluegreen algae blooms (a different species of algae) spread across Lake Okeechobee, the Caloosahatchee and St. Lucie Rivers and choked out fish below a green slime. Florida declared a state of emergency, as human health, tourism and fishing industries suffered.

LightHawk and our partners responded quickly, flying multiple missions to capture evidence of the blooms, and to change the hearts and minds of state officials. "While it's possible to take photos of the blue-green algae from the ground or by drone, the full scale and severity of the bloom is much more impactful and clear from plane aerial shots..[We] will be utilizing the photos … to advocate for science-based solutions to our water quality and algae bloom crisis at the local, state, and federal levels." noted Marisa Carrozzo of the Conservancy of Southwest Florida.

And our combined efforts delivered! The Everglades Foundation used LightHawk photos in a campaign to get the algae problem addressed in America's Water Infrastructure Act of 2018. It worked! The President signed the bill which will reduce toxic algae blooms by creating a reservoir that will decrease pollution from algae-boosting fertilizer that enters Florida's waters via agricultural runoff. Your support allows us to improve the lives of people and animals.
Border Patrol — For Kitties
LightHawk tracks lynx and bobcats from the sky
Cats never follow the rules, and neither do their wildcat cousins! The border between Canada and the US doesn't stop a lynx or bobcat, but it can mean life or death for these wild predators. In Washington, lynx are state-listed as endangered, while in British Columbia, they're commercially harvested for fur. LightHawk flew internationally to help Southern Interior Land Trust scientists collect data on how lynx and bobcat move across the landscape. Knowing this is critical to improve how the cats are managed on both sides of the border, and to prioritize migration corridors for protection.

Volunteer Pilot David Riffle helped the team track the cats from the air, and find radio collars that had dropped off the lynx and bobcats. The collars contain all the cats' movement data, and without LightHawk's help, two of the located collars would likely never be recovered due to their remote location. Aerial expediency was key — if winter hit before the collars were located, the batteries would have died and the data would have been lost.Thanks to your generosity, we're helping wildcats and scientists on both sides of the border!
Crab Traps Make for Crabby Whales
Crab traps capture more than just crabs
Dungeness crab is one of the West Coast's best seafood delicacies. While listed by Seafood Watch as a "Good Alternative" choice compared to crabs that are rare or whose capture causes harm to the environment, there is growing concern about the industry's impact on whales. Migrating humpback whales can get their 50-foot long bodies entangled in the maze of crab trap lines. Over 60% of whale entanglements in western waters are due to the Dungeness crab fishery.
LightHawk flew the Ocean Defenders Alliance (ODA) along the California coast to locate traps for Dungeness crabs. Viewing the traps from the air, they can quickly map where high trap concentrations occur and figure out how much risk they pose to migrating whales. ODA shares this information with fishing industry stakeholders, who use the data to inform future crabbing regulations. Knowing where traps are during the fishing season also helps ODA find and remove abandoned traps during off season. Because of your belief in LightHawk, you're helping save the whales!

Good for the Gunks
View from above helps land trust prevent illegal activities
LightHawk flies to protect beautiful places alongside our land conservation partners. This December, Volunteer Pilot Steve Kent flew the Open Space Institute over their conservation properties in the Hudson Valley of New York. The Shawanagunk Ridge, pictured above, is just one feature protected by the national conservation group.

LightHawk flights over multiple conservation easements allow our partners toquickly monitor large areas for any illegal building or activities. Shawanagunk Ridge is an accessible place for urbanites to experience the beautiful outdoors, and develop a love for conservation. Easily accessed from New York City, it is an influential park for LightHawk to help protect. Your belief in our efforts means we can ensure the next generation of conservationists experiences the outdoors.
Do You Think Hope is Contagious?Have you noticed the increase in sobering reports about the toll climate change will take in the next decade or two? Environmental writer Rebecca Solnit penned a recent article entitled "Don't Despair: The Climate Fight Is Only Over If You Think It Is" (https://bit.ly/2ITTJSx). In it, she encourages that despite the doom and gloom talk, there are countless examples of reasons to be hopeful.

LightHawk is built upon hope. Our first flights in 1979 were to stop a coal-fired power plant on the edge of the Grand Canyon. Now 40 years later, we see our work propelling positive environmental changes every day. As human beings, our strongest native instinct is survival. While much of the globe has not yet begun to fight, we have. And you have. And we'll continue to, thanks to your belief in just how important these challenges are, and knowing that we must prevail. All life depends on it.
Warmest Regards,

Bob Francella

Chief Advancement Officer