It's been a stellar 2019 at LightHawk, celebrating 40 years of conservation flying. As we look ahead to 2020, we're excited to continue our important work with your help!
The video below is just one of the critical conservation issues LightHawk addressed this year. In partnership with the Wild Salmon Center, we flew to demonstrate the intense logging happening in Oregon. The federal government has said Oregon's forestry practices are violating the Clean Water Act. We are helping the public see the damages and pushing for modernization of Oregon's forestry.
LightHawk Hats, Jackets and Shirts! NEW- We now have a store where you can show your LightHawk pride! Please make orders by September 22 if you'd like to pick them up at the Annual Meeting in Santa Fe.
A Black Mangabey monkey from Central Africa. LightHawk provided transportation between breeding center zoos to bolster this endangered species' population. Photo Credit: Brookfield Zoo.
Issue: Black Mangabeys, a primate from Africa, are extremely endangered. Only 22 exist in species protection programs in the US.

Why It Matters: Black Mangabeys are disappearing in their Central African home, due to illegal logging and hunting.
LightHawk Conservation Initiative: Species Survival
What LightHawk Is Doing: LightHawk provided safe, quick, and stress-free transportation for a female Black Mangabey from the Binder Park Zoo in Michigan to the Metro Richmond Zoo in Virginia.
Outcome: Paired with a new mate in her new home, this flight will hopefully result in babies and a brighter future for the species.
Meet the LightHawk Staff

Chelsea Baird
Development & Administrative Associate
Chelsea, a Colorado-based staff member, is essential to LightHawk's day-to-day operations!
She processes gifts to LightHawk and recognizes donors.
She does a lot of heavy lifting planning the Annual Meeting and Fly-Ins.
She helps keep LightHawk's data systems running.
Chelsea Baird comes to LightHawk with an extensive background in development, administration and finance. The conservation work LightHawk does means a great deal to her and she is supports LightHawk's mission with her knowledge and experience. She also enjoys the aviation side of LightHawk's work as her husband Andy is a commercial pilot. She enjoys being outdoors and loves to backpack, hike, fish and cook.
LightHawk in the News
Sierra Club: Condors Take Flight with LightHawk

"We can't thank LightHawk enough. These transfers of birds really make a difference in how we can manage the population moves in a more fluid way… The shorter the trip, the quicker the anxiety is over for the birds," said Mike Clark, Condor Keeper, Los Angeles Zoo.

PBS: Crosscut Documentaries – The Rising

Climate change threatens the future of several tribes on the Pacific Coast, stripping away the natural resources that have supported a thriving culture and lifestyle for thousands of years. Footage from LightHawk included.
LightHawk Photo of the Month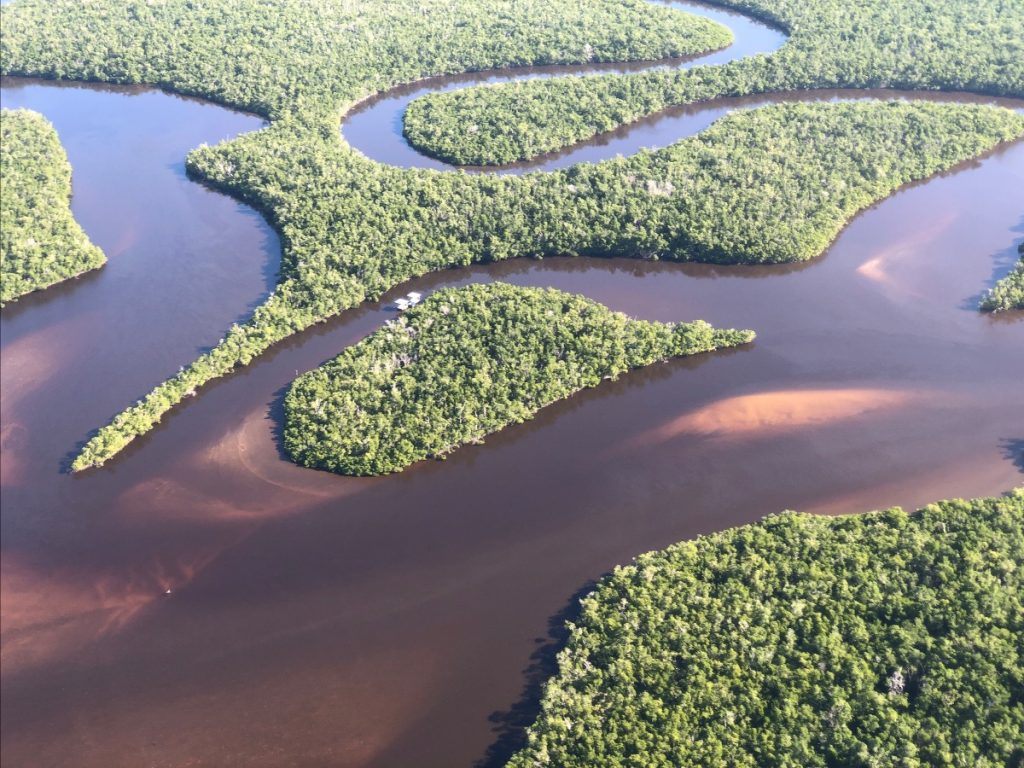 As part of LightHawk's long-term work to support Everglades restoration, we flew outreach specialists from the Artists in Residence in Everglades organization. The goal is to improve public engagement of the natural and cultural resources of the 1.5 million acre Everglades National Park. Artists in Residence in Everglades (AIRIE).
Thank you for reading! And for those of you who are on social media, follow us on Twitter, Facebook and Instagram to see updates more often.