A huge thanks to everyone who was able to celebrate LightHawk's 40th Anniversary in Santa Fe at the Annual Meeting and Fly-In earlier this month! We had probably the best food in the history of Fly-Ins and some of the most engaging talks by pilots and conservation partners. Join us next year in Washington, D.C.
LightHawk Hats, Jackets and Shirts! NEW- We now have a store where you can show your LightHawk pride! Please make orders by September 22 if you'd like to pick them up at the Annual Meeting in Santa Fe.
Loading an oxygenated cooler full of Kokanee Salmon into the back of the plane. LightHawk flew these fish to a protected hatchery, where they will reproduce and one day be able to re-populate their ancestral home in Lake Sammamish, WA. Photo Credit: David St. John/King County/LightHawk
Issue: The Kokanee Salmon of Lake Sammamish used to return to the lake in the tens of thousands, but in the past three years, only 20-120 fish have made the trek back to their home to breed.

Why It Matters: This population of salmon is unique, having lived in Lake Sammamish for thousands of years, adapting to lake life. These salmon are a cherished part of local heritage and biodiversity.
LightHawk Conservation Initiative: Safeguarding Freshwater Systems, Wildlife Survival
What LightHawk Is Doing: LightHawk transported 250 salmon in specially designed coolers from their native lake to a protected breeding facility, which will ensure the fish are safe from deteriorating water conditions in the lake.
Outcome: LightHawk's safe, fast transportation for the salmon ensures that they have a chance to survive and reproduce, so that Lake Sammamish may one day see the historic numbers of salmon that used to live there.
Meet the LightHawk Staff

Esther Duke
Western Program Director
Esther, our Denver-based staff member, directs LightHawk's efforts in the western half of North America.
She develops partnerships with conservation organizations from Alaska to Mexico, from California east to the Rockies.
She helps guide LightHawk's conservation strategies for western-specific issues including water conservation, river health, and California Condor recovery.
Esther is passionate about building capacity for collaborative and performance-based conservation. Before joining the LightHawk team Esther was Director of Special Projects and Programs for the Human Dimensions of Natural Resources (HDNR) Department at Colorado State University (CSU). At CSU she led outreach efforts with a focus on building social science capacity for government agencies and NGOs. She directed seven conference/training programs and taught courses focused on human-wildlife conflict mitigation, conservation social science, and nature-based tourism. Esther has experience working cross-culturally as director of conferences in Kenya and Italy and managing research networks in China, Central America, and Europe.
Esther also has experience in the area of environmental market design. Esther worked as a consultant for The Wyoming Chapter of the Nature Conservancy and the University of Wyoming, to lead a habitat exchange feasibility study for what is now the Wyoming Conservation Exchange. She continued research in this area at CSU as co-principal investigator on a research project exploring the role of conservation evidence in decision making and other factors influencing beneficiary participation in forest stewardship for source water protection in the Intermountain West.
Esther received her M.S. from the HDNR at CSU in 2010. Her research was conducted in Panama and focused on design strategies and trade-offs for payment for ecosystem services programs. She received her B.A. from Illinois Wesleyan University.
LightHawk in the News
KOMO News: Genetically rare salmon fly to Orcas Island to preserve species

Video news segment covering our salmon story from above.

News Channel 3: Exclusive: Aerial view shows environmental disaster at the Salton Sea

This covers the demise of the Salton Sea and how its newly dry banks expose toxic chemicals.

E&E News: Time running out for crusading biologist's war on dams

A story featuring LightHawk conservation partners and our work on saving salmon.
LightHawk Photo of the Month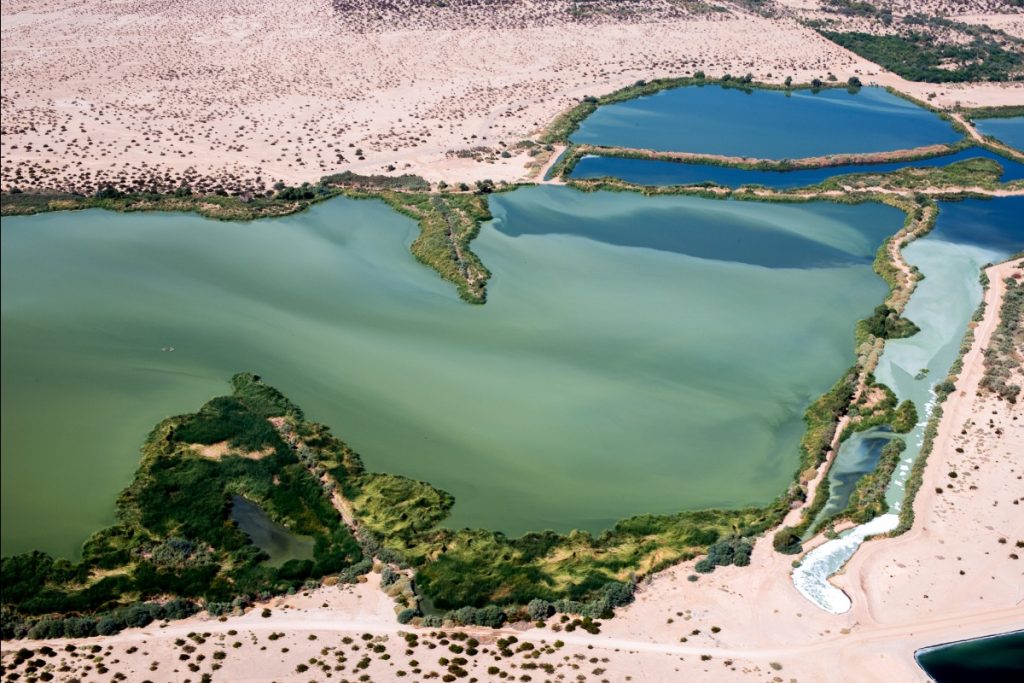 LightHawk flew with Raise the River to feature restoration sites along the Colorado River Delta. Las Arenitas treatment plant treats about 50% of Mexicali's sewage. Through a cooperative agreement between the Mexico government and NGOs, some percentage of the water flow is allocated to these wetlands for bird and other habitat. Jesus Salazar/Raise the River/LightHawk
Thank you for reading! And for those of you who are on social media, follow us on Twitter, Facebook and Instagram to see updates more often.