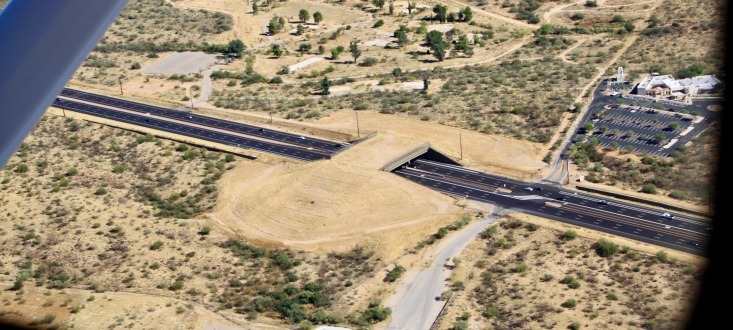 It's not just elbow room — it's a matter of survival.
Arizona's Sun Corridor will double in population by 2040. One of America's fastest growing areas is also one of its most environmentally-sensitive, increasing pressure on a North American gem – the Sonoran Desert.
The area has some of the greatest diversity of life of any North American desert and a landscape diversity rivaling all others. Smart growth is a life and death matter with wildlife and humanity sharing an arid, diverse and interconnected landscape.
LightHawk has worked extensively with a partner, the Coalition for Sonoran Desert Protection, to ease the many ways people impact the landscape and its wildlife. LightHawk flights have saved staff days of work and hundreds of miles of driving, they say.
LightHawk also flew to support a new wildlife overpass and underpass north of Tucson. Before the project, 255 road kills were reported in four months. Since opening in March 2016, more than 1,000 animals from 13 different species have safely used the crossings.
Flights captured footage, raised public support, empowered staff and engaged the Coalition's supporters like Elizabeth Deupree.
Deupree said her LightHawk flight was "instrumental for me to see the staggering encroachment of humans and housing developments in and so close to natural watershed areas and migratory paths." The flight inspired her to support a wildlife camera monitoring program and advocate for others to support the project as well.
"To start looking for funding and to raise three-fourths of our goal in a matter of two days has surpassed all expectation and we could not have done it without (LightHawk)," said Sarah Whelan, Coalition Program and Outreach Associate.
We will continue investing in this area to balance growth with conservation.